PBT producers reluctant sellers amid high price and low run rate
Views:3 Author:Site Editor Publish Time: 2021-03-09 Origin:Site
Prices of the value chain hit new high
Prices of PBT chip surged to 24,500yuan/mt in end-Feb from 12,950yuan/mt in early-Feb, with increment at 89% or 11,550yuan/mt. PBT POY50D and FDY50D increasing to 25,500yuan/mt and 28,000yuan/mt from 14,850yuan/mt and 17,750yuan/mt in Feb, with increment at 10,650yuan/mt (72%) and 10,250yuan/mt (58%) respectively.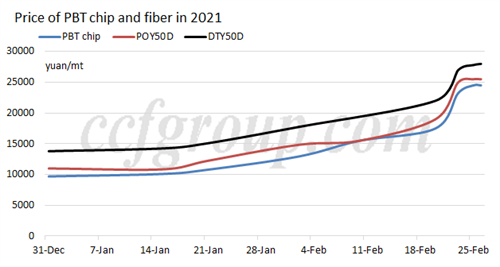 Price of PTA and BDO, 2 major raw materials of PBT, soared to 4,745yuan/mt and 30,500yuan/mt from 3,945yuan/mt and 15,550yuan/mt respectively in Feb, with increment at 800yuan/mt or 20% and 14,950yuan/mt or 96% respectively. Feeding cost of PBT (excluding freight) hiked by 7,629yuan/mt or 74% to 17,908yuan/mt in end-Feb from 10,279yuan/mt in early-Feb.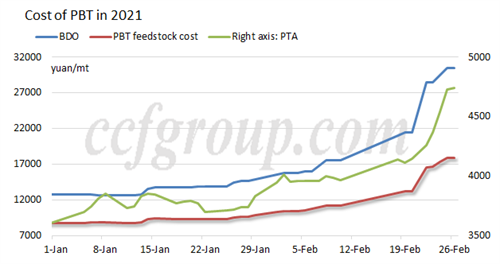 PBT fiber plants were reluctant to sell amid high cash flow
PBT fiber producers saw tolerable profit after price soared in Feb. Cash flow of PBT chip averaged at 3000yuan/mt in Feb, while that of POY and DTY changed limitedly, mainly around cost line.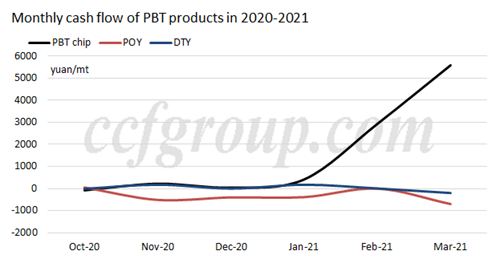 PBT chip producers that witnessed sound cash flow once suspended offering and were reluctant to sell when prices of BDO advanced rapidly amid short supply. Normal quotation appeared until late-Feb. However, downstream buyers were unwilling to purchase amid high price.
Supply of BDO sustained short despite of production increase, PBT polymerization rate was low
Operating rate of BDO market kept ascending in Feb amid high cash flow and tight supply. BDO available for sales remained short despite of growing production. Operating rate of PTMEG market, the biggest downstream market for BDO, ran at around 96% of capacity.
Production of PBAT market was stable. BDO stocks in downstream major consumption sectors were scarce. That meant rigid demand for BDO was strong. Supply of BDO for spot transactions was seen as little-to-no.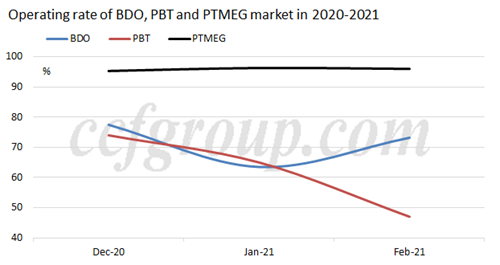 Demand from spandex fiber and degradable market was sound, while that for PBT fiber was relatively weaker. Cash flow of PBT chip was higher than that of PTMEG but lower than that of PBAT. Therefore, among major downstream products for BDO, run rate of PBT was relatively lower, with comprehensive polymerization rate estimated at 40-50% in Feb.
PBT prices are hard to retreat supported by feedstock market
Price of BDO is expected to sustain high in Mar amid short supply but that of PTA may head south due to inventory burden. Cost of PBT market remains high and producers run at low capacity. Price of PBT fibers fails to chase up. Therefore, price of PBT chip and fibers is likely to be hard to fall temporarily. Some producers that quote low may adjust up price.