Polyester downstream market: Attention to textile orders in late-May
Views:0 Author:Site Editor Publish Time: 2020-04-30 Origin:Site
The pandemic burst again in India since late-Mar. As of April 24, India has become a country with the largest new infection in the world for three consecutive days, and the number of newly added cases reached 346,000 on Apr 24, which was the maximum daily number of new cases worldwide since the outbreak of the COVID-19 pandemic.
Some orders for textiles and apparels in India were rumored to flow into China last week as the pandemic was almost out of control there. After communicating with downstream players on polyester market, there was no such transfer temporarily. Some PFY makers reflected that exports of PFY have reduced obviously. One company received 5,000-6,000 tons of PFY orders to India in Mar but they almost did not take orders in Apr. Falling PFY exports to India also indicated diminishing textiles orders in India indirectly. Whether this portion of orders were transferred to China or other Southeast Asian countries is hard to be verified.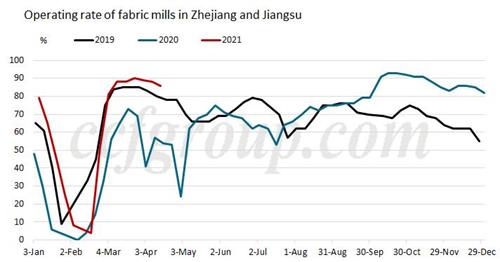 Even if orders from India are transferred to China, it has little relation with downstream market of polyester as polyester products are not competitive in India. India is a major cotton producer in the world. Transfer of orders should concentrate on cotton related ones and the volume may be small temporarily as Southeast Asian nations like India enjoy low feedstock cost, labor cost and tax while China is not comparable. Even though Chinese companies receive orders from Europe, US, Japan and South Korea, they may be not profitable. Textiles orders may shrink in India or be transferred to other Southeast Asian markets with low cost in short run due to the pandemic.
Traditional peak season performed worse than anticipated in Mar-Apr. Orders in the first half of year have gradually come to an end. Taking dyeing plants as an example, operating rate of dyeing plants sustained at 84% in Zhejiang and Jiangsu but may extend lower after orders in the first half of year finished delivery. Printing and dyeing market witnessed moderate performance but was still worse than the appearance in Mar-Apr in the past years. Dyeing plants were supposed to run at around 95% of capacity during peak season in previous years. May-Jul are traditional off-season on textiles and apparels market. Overall market may be in dilemma: Orders taken before will gradually complete delivery while new orders are limited. Stocks of grey fabric tend to rise. Operating rate of downstream plants may continue declining amid meager profit. Players will not see improving demand before mid-Jul.
Overall market may have not optimistic direction. Orders change in late-May should be noted. Domestic sales will be thin in May by convention, but summer orders may be stimulated by the online shopping spree on Jun 18. Therefore, some downstream buyers may replenish feedstock. In addition, some small-batched export orders may gradually emerge from late-May by convention. Orders for knitted velvet fabric should be concerned. Polyester enterprises will face pressure in the following 2 months. Downstream buyers may purchase when PFY price is low and adopt sidelined attitude when PFY price is high on the back of weaker demand. PFY companies may cut price periodically to improve sales and gain profit. Sales may improve periodically. Downstream fabric manufacturing and twisting market will expand capacity substantially in 2021. Thus, rigid demand for polyester fibers may enjoy support as long as downstream run rate does not slip apparently. Polyester polymerization rate is anticipated to encounter downward pressure but the decrement may be limited temporarily.