China ACN market direction in Apr
Views:1 Author:Site Editor Publish Time: 2021-03-24 Origin:Site
In March, China ACN market has been in consolidation after slight decline from high level, as market participants hold certain anticipation towards the settlement prices for Mar, and based on this anticipation, even there are low offers, the sellers are unwilling to sell at low rates. Prices may be hard to change much before the update of settlement prices. In Apr, several factors have been changed.
For the supply side, PetroChina Fushun is previously scheduled to shut in Apr for maintenance, but the shutdown is delayed. Shanghai Secco closes its ACN unit in advance in Mar, which is planned to shut in Apr. Based on the previous schedule, the supply may reduce by about 22kt in Apr, but according to current status, the supply in Apr may even increase compared with Mar. Shandong Haili has restarted its 130,000 t/yr unit on Mar 12 and runs at 80-90% currently.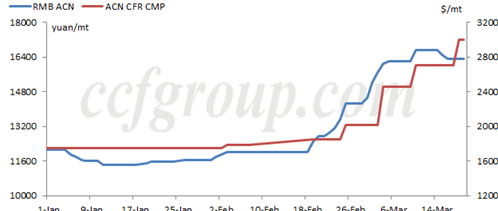 For the foreign market, Cornerstone remains under force majeure, resulting into supply tightness, pepping up the ACN prices. Currently, CFR Far East and Southeast Asia has risen to $3,000/mt and CFR South Asia rises to $3,170/mt. It is understood that there are offers of $2,800/mt, but the actual transactions are hard to be concluded.
Even the deals are concluded at $2,800/mt, the prices are still higher than domestic ACN prices. The export opportunities still exist for domestic plants. In the meanwhile, Tongsuh Petrochemical has maintenance plan on its No. 3 and No. 4 units in May, so the downstream buyers may replenish stocks in Apr.For downstream sector, ABS plants maintain the operation amid the high profits. For acrylic fiber, Ningbo Zhongxin plans to shut down for 10 days of maintenance in Apr, and other plants have no maintenance plan. AM profits improve somewhat after the rise recently, but due to unfavorable sales, operating rate may be cut.
In general, ACN supply may increase in Apr, which is a bearish factor, but according to current price spread with foreign market, China's producers may export to digest the increased supply. In short, ACN offers are likely to remain flat with the stable downstream plant operation, while in Apr, the prices may go downward tentatively with increasing supply, but the downward space is likely to be limited.